Haunting Wail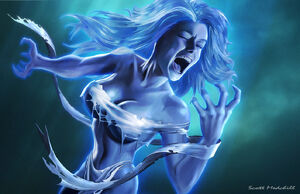 [[File:|300px|center]]
Stats
Type

 Ghost

Category

 

Special

Power
 60
Accuracy
 100%
PP
 15 (max. 24)
Priority
 {{{priority}}}
Ominously weeping with sorrow, the user entombs the target with fear. This may also leave the target with paralysis.

Does not make contact
Affected by Protect
Not affected by Magic Coat
Not affected by Snatch
Not affected by King's Rock
Is a sound-based move
Target
Foe
Foe
Self
Ally
May affect anyone but the user
Haunting Wail is an offensive Ghost-type move introduced in Pokémon MindXMatter. It has a 30% chance of causing paralysis.
Ad blocker interference detected!
Wikia is a free-to-use site that makes money from advertising. We have a modified experience for viewers using ad blockers

Wikia is not accessible if you've made further modifications. Remove the custom ad blocker rule(s) and the page will load as expected.